GLS/HGLS/GLT/HGLT
Beam and Glulam Saddle Hangers
See Top-Flange Hanger Load Table for Glulam Beams. See Hanger Options for hanger modifications, which may result in reduced loads.
GLT and HGLT accommodate typical structural requirements for timber and glulam beams. GLT top flange depth allows installation on minimum 4x ledger (3 1/2" net). Not acceptable for nailer applications. Funnel Flanges® allow easy installation of beams.
GLS and HGLS are heavy glulam saddle hangers.
Material
All welded GL series glulam hangers have a 3 gauge top flange. See load table for stirrup gauge.
Finish
Simpson Strong-Tie® gray paint. Hot-dip galvanized available; specify HDG.
Installation
Use all specified fasteners. See General Notes.
GLT/HGLT:
All GLTs used with sawn timbers have a 12" L dimension.
Fasteners are included.
GLT may be attached to steel headers by 3/16" x 2 1/2" fillet welds at each end of the header angle to obtain the tabulated loads. HGLT may be attached to steel headers by 1/4" x 2 1/2" fillet welds at each end of the header angle to obtain the lesser of the tabulated loads or 12,000 lbs. For uplift loads refer to technical bulletin Top-Flange Hangers Welded to Structural Steel Members (T-WELDUPLFT). For weld information, see General Instructions for the Installer.
Not for use with SCL or LVL headers. See GLTV, HGLTV.
GLS/HGLS:
Use Simpson Strong-Tie® 1/4" x 2 1/2" SDS Heavy-Duty Connector screws when hangers are used with structural composite lumber.
N54A nails are included with the hangers.
Loads listed are per stirrup.
Options
See Hanger Options.
Ordering Information
GLS/HGLS—Specify H1, H2, and S dimensions (see illustration in image gallery).
Some engineered wood sizes are also available.
Related Literature
Product Information Tables
Dimensions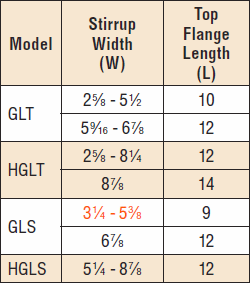 Code Reports
Drawings
| Part | Orthographic | Perspective |
| --- | --- | --- |
| GLS | None | None |
| GLS3-5 | None | None |
| GLS3-7 | None | None |
| GLS3-9 | None | None |
| GLS5-5 | None | None |
| GLS5-7 | None | None |
| GLS7-7 | None | None |
| GLS7-9 | None | None |
| GLT | None | |
| GLT3 | | None |
| GLT4 | None | None |
| GLT5 | | None |
| GLT6 | None | None |
| GLT7 | None | None |
| HGLS | None | None |
| HGLS5 | | None |
| HGLS7 | None | None |
| HGLS9 | None | None |
| HGLT | None | |
| HGLT3 | | None |
| HGLT4 | None | None |
| HGLT5 | None | None |
| HGLT6 | None | None |
| HGLT7 | None | None |
| HGLT9 | None | None |