WMU/WP/WPU/HW/HWU
Purlin Hangers
The WPU, HWU and HW series purlin hangers offer the greatest design flexibility and versatility.
Material
WP/WPU — 7 ga. top flange, 12 ga. stirrup; HW — 3 ga. top flange, 11 ga. stirrup; HWU — 3 ga. top flange, 10 ga. stirrup
Finish
Simpson Strong-Tie® gray paint. Hot-dip galvanized available; specify HDG.
Installation
Hangers may be welded to steel headers with 3/16" for WPU/WP, and 1/4" for HW/HWU, by 1 1/2" fillet welds located at each end of the top flange. Weld-on applications produce maximum allowable load listed. See General Instructions for the Installer, note m for weld information. For uplift loads refer to technical bulletin Top-Flange Hangers Welded to Structural Steel Members (T-WELDUPLFT).
Hangers can support multi-ply carried members; the individual members must be secured together to work as a single unit before installation into the hanger.
Options
See Hanger Options for hanger modifications and associated load reductions
Related Literature
Load Tables
See Hanger Options for hanger modifications, which may result in reduced loads.
Nailer Table
The table indicates the maximum allowable loads for WP, WPU, HW or HWU hanger used on wood nailers. Nailers are wood members attached to the top of a steel I-beam, concrete or masonry wall.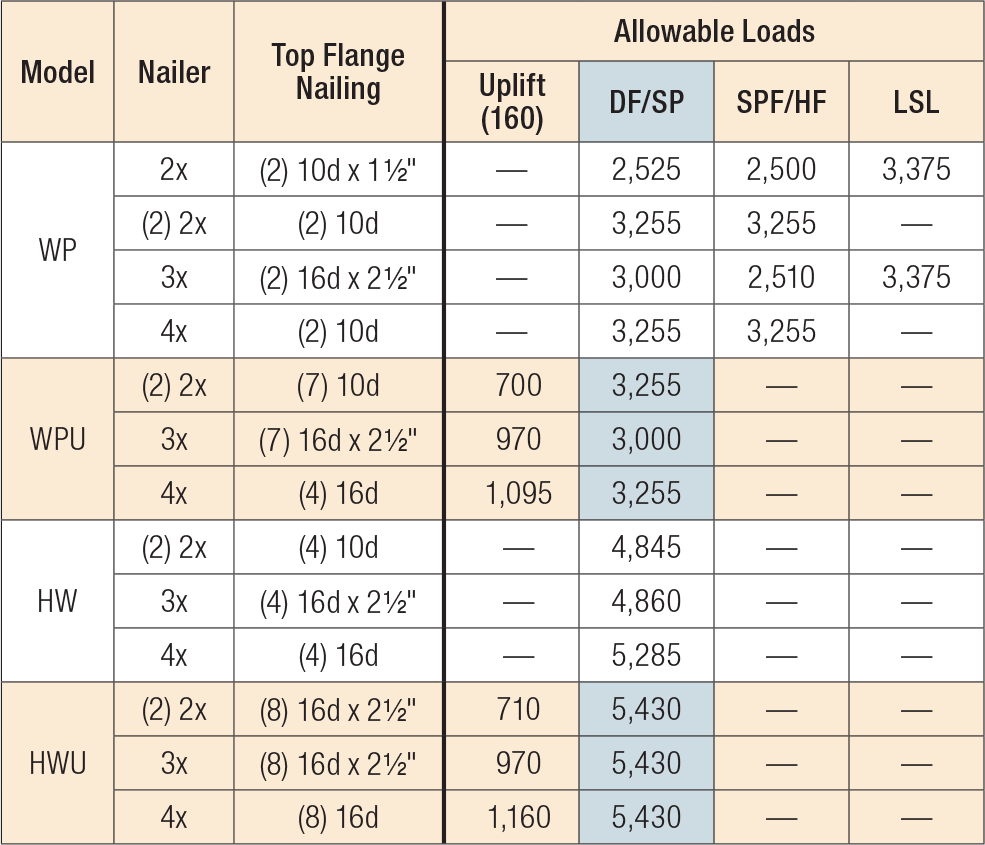 Uplift value for the HWU hanger is for depth ≤ 18". Refer to uplift values in table below for taller depths.
Attachment of nailer to supporting member is the responsibility of the Designer. See TB screws attachment option.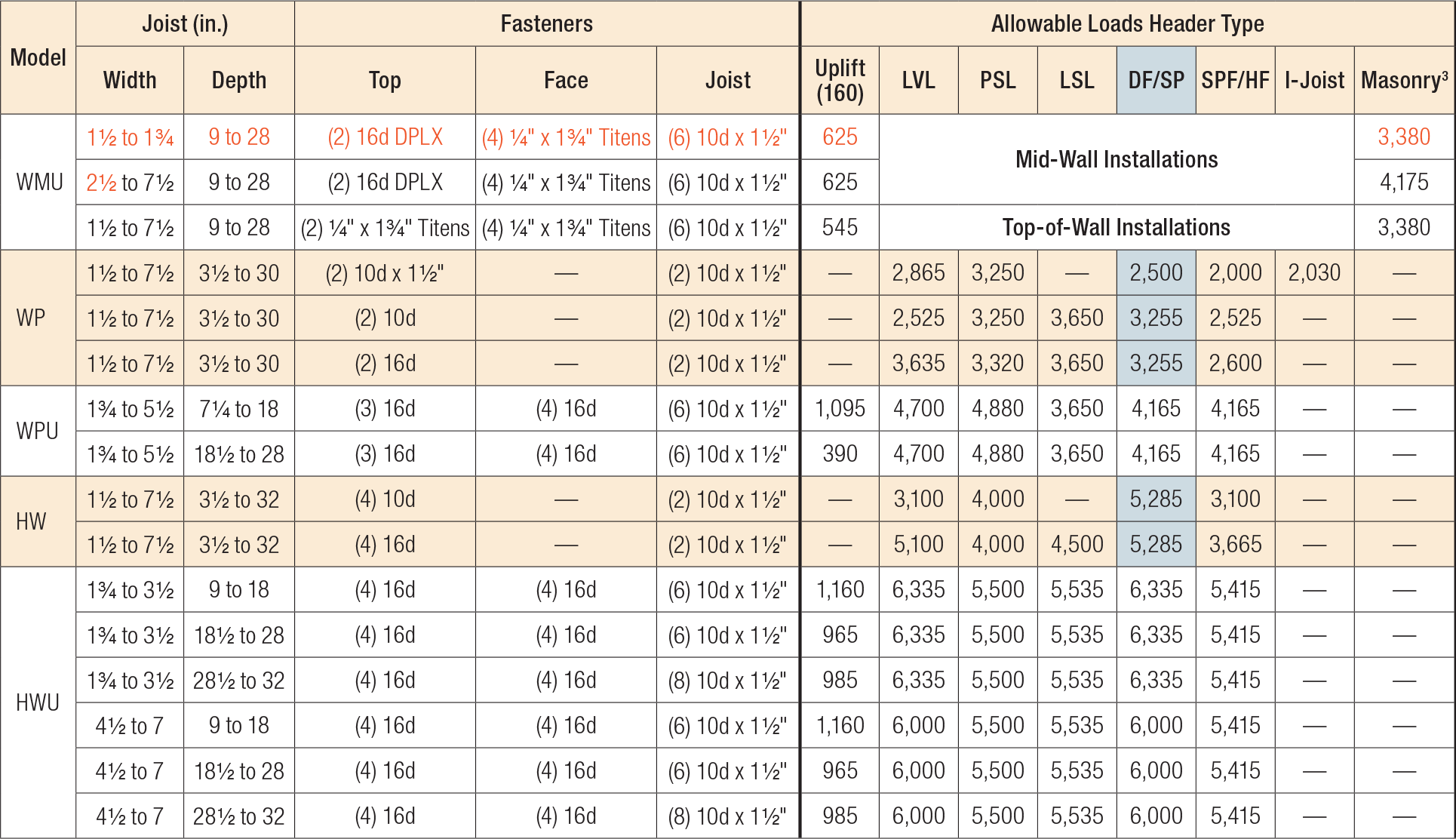 16d sinkers (0.148" dia. x 3 1/4" long) may be used where 10d commons are called out with no load reduction.
Uplift loads are based on DF/SP lumber and have been increased for wind or earthquake loading with no further increase allowed. Reduce where other loads govern.
Minimum f'm = 1500 psi.
For hanger heights exceeding the joist height, the allowable load is 0.50 of the table load.
Nails: 16d = 0.162" dia. x 3 1/2" long, 10d = 0.148" dia. x 3" long, 10d x 1 1/2" = 0.148" dia. x 1 1/2" long.
See other nail sizes and information.
Code Reports
Part
IAPMO UES ER
ICC-ES ESR
City of Los Angeles
State of Florida
HW
See specific model numbers for code listings.
HW3.25
RR25800
FL10856
HW3.62X
No code listing. Please contact us for test data.
HW5.25X
No code listing. Please contact us for test data.
HW5.50X
No code listing. Please contact us for test data.
HW6.88X
No code listing. Please contact us for test data.
HWU
See specific model numbers for code listings.
HWU3.25
ESR-2615 ESR-2523
RR25804
HWU3.62X
No code listing. Please contact us for test data.
HWU5.25
ESR-2615 ESR-2523
RR25804
HWU5.62X
No code listing. Please contact us for test data.
HWU6.88X
No code listing. Please contact us for test data.
WMU
No code listing: Please contact us for test data.
WMU3.25X
No code listing. Please contact us for test data.
WMU3.62X
No code listing. Please contact us for test data.
WMU5.25X
No code listing. Please contact us for test data.
WMU5.50X
No code listing. Please contact us for test data.
WMU6.88X
No code listing. Please contact us for test data.
WP
See specific model numbers for code listings.
WP3.25X
No code listing. Please contact us for test data.
WP3.62X
No code listing. Please contact us for test data.
WP5.25X
No code listing. Please contact us for test data.
WP5.62X
No code listing. Please contact us for test data.
WP6.88X
No code listing. Please contact us for test data.
WPI
See specific model numbers for code listings.
WPU
See specific model numbers for code listings.
WPU3.25X
No code listing. Please contact us for test data.
WPU3.62X
No code listing. Please contact us for test data.
WPU5.25X
No code listing. Please contact us for test data.
WPU5.62X
No code listing. Please contact us for test data.

ESR-2523 is an Index of many of Simpson Strong-Tie Stamped and Welded Cold-formed Steel Products for Wood or Cold-formed Steel Construction
Drawings
| Part | Orthographic | Perspective |
| --- | --- | --- |
| HW3.25 | None | |
| HW3.62X | None | |
| HW5.25X | None | |
| HW5.50X | None | |
| HW6.88X | None | |
| HWU3.25 | None | None |
| HWU3.62X | None | None |
| HWU5.25 | None | None |
| HWU5.62X | None | None |
| HWU6.88X | None | None |
| WMU | None | None |
| WMU3.25X | None | None |
| WMU3.62X | None | None |
| WMU5.25X | None | None |
| WMU5.50X | None | None |
| WMU6.88X | None | None |
| WP3.25X | None | None |
| WP3.62X | None | None |
| WP5.25X | None | None |
| WP5.62X | None | None |
| WP6.88X | None | None |
| WPU3.25X | | None |
| WPU3.62X | | None |
| WPU5.25X | | None |
| WPU5.62X | | None |