W/WP/WPU/WMU/HW/HWU/HWP/HWPH
I-Joist and Structural Composite Lumber Hangers
Top-Flange Hangers for I-Joists
This product's information may differ depending on the category of use. You are currently viewing details related to Top-Flange Hangers for I-Joists. You can also view product information related to the category: Top-Flange Hangers for Structural Composite Lumber
The W, WP, WPU, HWU and HW series are designed to hang joists, purlins or beams. WMU hangers are designed for use on standard 8"-grouted masonry block wall construction. Some models have an "I" in the model number which indicates a size specific for an I-joist and have the same properties and modifications as the standard series. Models that have an "I" in the model number (e.g., HWI) have the same properties and modifications as the standard models without the "I" in the name (e.g., HW).
The new HWP and HWPH high-wind purlin hangers have enhanced uplift. They are ideal for high-wind applications.
Finish
Simpson Strong-Tie® gray paint. HDG available; contact Simpson Strong-Tie.
Installation
Use all specified fasteners; see General Notes.
Hangers may be welded to steel headers with 1/8" for W, 3/16" for WP, WPU, and 1/4" for HW, HWU by 1 1/2" fillet welds located at each end of the top flange; see General Instructions for the Installer, note m for weld information. Weld-on applications produce maximum allowable load listed. For uplift loads refer to technical bulletin Top-Flange Hangers Welded to Structural Steel Members (T-WELDUPLFT), for WPU and HWU hangers only.
Hangers can support multi-ply carried members; the individual members must be secured together to work as a single unit before installation into the hanger.
Hangers can support joists sloped up to 1/4:12 using table loads. For joists sloping between 1/4:12 and 3/4:12 use 85% of the table loads.
Web stiffeners are required for standard joist nailing configuration with these hangers.
Options
See Hanger Options information.
Some models are available in Type A (bevel-cut joist). All models are available in Type B style (square-cut joist). Contact Simpson Strong-Tie when ordering.
Hangers with a skew greater than 15° may have all the joist nails on the outside angle.
Skewed HWs have face nails and require a minimum header depth of 3 1/2".
Specify the slope up or down in degrees from the horizontal plane and/or the skew right or left in degrees from the perpendicular vertical plane. Specify whether low side, high side or center of joist will be flush with the top of the header (see illustration in image gallery).
Uplift loads are not available for open/closed TF, TF sloped and offset options.
Saddle Hanger
To order, add D to model and specify S dimension (see illustration in image gallery).
Saddle hangers achieve catalog load listed. Saddle hangers on stud walls do not achieve catalog loads.
Recommended S dimension is 1/16" oversized for carrying members 2  1/2" wide and less or 1/8" oversized for greater than 2  1/2" wide.
Saddle versions are available on the W and HW models.
Ridge Hanger (not available for uplift models)
Top flange may be sloped to a maximum of 35° to accommodate a ridge (see illustration in image gallery). Specify angle of the slope. Reduce allowable load using straight-line interpolation. See open/closed example.
Codes
See Code Reports table below for ICC-ES ESR, City of L.A., and State of Florida.
W/WI, WP/WPI and HWI: CCMC 12862-R (user account required)
Related Links
Catalog Pages
Related Literature
Load Tables
See Top Flange Hanger tables.
See Hanger Options for hanger modifications, which may result in reduced loads.
Nailer Table
The table indicates the maximum allowable loads for W, WP and HW hangers used on wood nailers. Nailers are wood members attached to the top of a steel I-beam, concrete or masonry wall.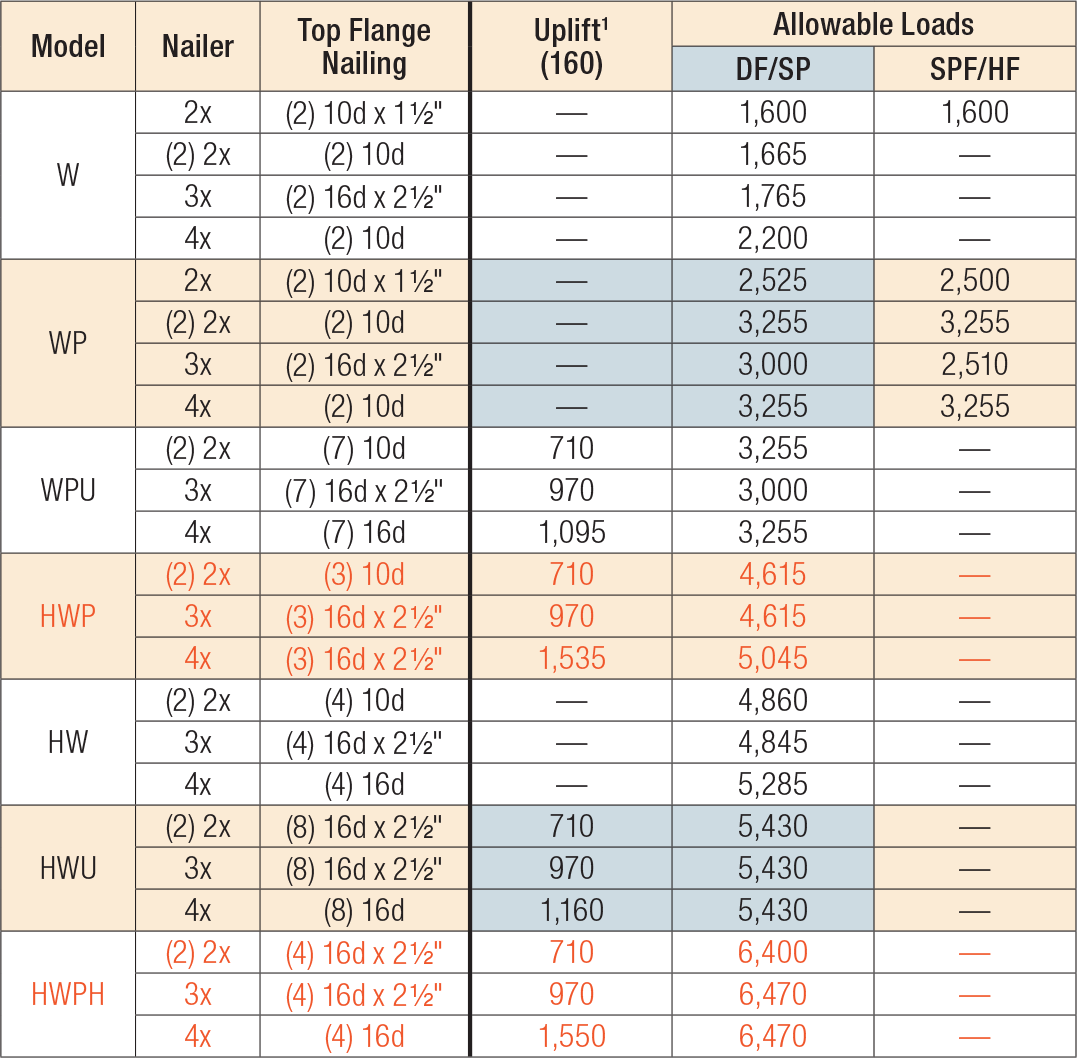 Uplift values for the WPU and HWU hangers are for depths ≤ 18" and are for DF/SP values only. Refer to uplift values in table below for taller depths.
Attachment of nailer to supporting member is the responsibility of the Designer.
W Series with Various Header Applications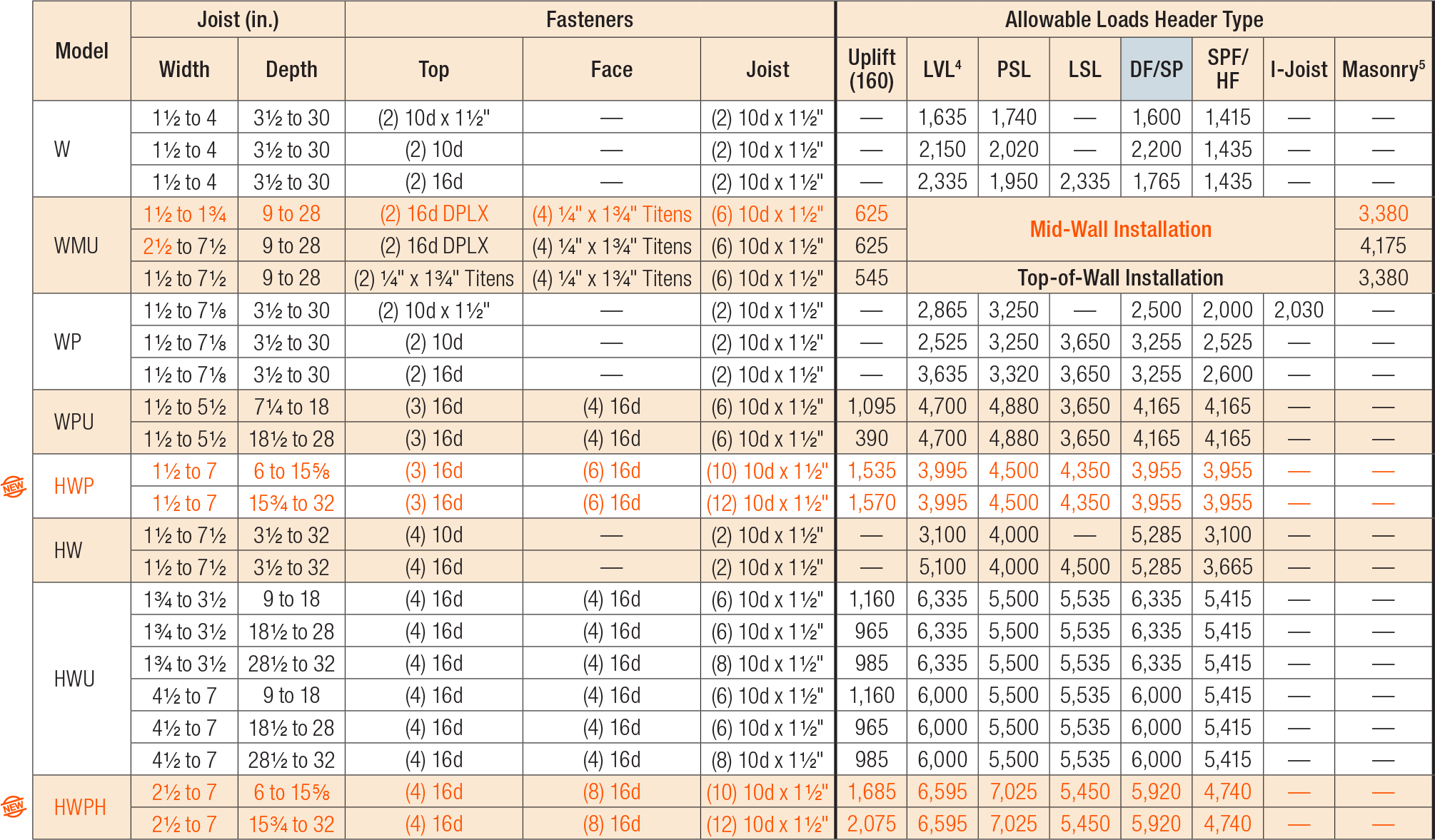 Uplift loads are based on DF/SP lumber and have been increased 60% for wind or earthquake loading with no further increase allowed. For normal loading applications such as cantilever construction refer to Simpson Strong-Tie Connector Selector software or conservatively divide the uplift load by 1.6. For SPF/HF use 0.86 x DF/SP uplift load.
Applies to LVL headers made primarily from Douglas Fir or Southern Pine. For LVL made primarily from Spruce Pine Fir or similar less dense veneers, use the values found in the SPF/HF column.
WP quantity of nail holes in top flange varies.
Top-flange hangers on the following pages with "I" in the model name (e.g. HWI) use the same design information in the above tables for the models without the "I" in the name (e.g. HW).
Minimum f'm = 1,500 psi. See WMU Installation Notes.
For hanger heights exceeding the joist height, the allowable load is 0.50 of the table load.
Nails: 16d and 16d DPLX = 0.162" dia. x 3 1/2" long, 10d = 0.148" dia. x 3" long, 10d x 1 1/2" = 0.148" dia. x 1 1/2" long.
See other nail sizes and information.
Modifications and Associated Load Reductions for W/WP/WPU/WMU/HW/HWU

WPU, WNPW, HWU have a maximum skew of 45° and can only be skewed when W ≤ 3 9/16".
For straight-line interpolation, "a" is the specified angle.
Reduction factors are not cumulative. Use the lowest factor that applies.
Reduction Factor Instructions
Allowable Download = (lowest of Seat, Top Flange, or Joist Height) x (Table Load)
Allowable Uplift = as noted in table per height. (WPU, WNPU, HWU only)
Typical HW sloped down, skewed right with type A hanger (Joist end must be bevel cut).
When ordering, specify low side flush, center flush or high side flush.
Code Reports
Drawings
| Part | Orthographic | Perspective |
| --- | --- | --- |
| HWI322 | None | None |
| HWI411.25 | None | |
| HWI411.88 | None | |
| HWI412 | None | |
| HWI414 | None | |
| HWI416 | None | |
| HWI418 | None | |
| HWI418-2 | None | |
| HWI420 | None | |
| HWI420-2 | None | |
| HWI422 | None | |
| HWI422-2 | None | |
| HWI424 | None | |
| HWI424-2 | None | |
| HWI426 | None | |
| HWI426-2 | None | |
| HWI428 | None | |
| HWI428-2 | None | |
| HWI430 | None | |
| HWI430-2 | None | |
| HWI432 | None | |
| HWI432-2 | None | |
| HWI49.25 | None | |
| HWI49.5 | None | |
| HWP1.56 | None | None |
| HWP1.81 | None | None |
| HWP2.56 | None | None |
| HWP3.56 | None | None |
| HWP5.12 | None | None |
| HWP5.62 | None | None |
| HWP66 | None | None |
| HWP7.12 | None | None |
| HWPH2.56 | None | None |
| HWPH3.56 | None | None |
| HWPH5.12 | None | None |
| HWPH5.62 | None | None |
| HWPH7.12 | None | None |
| HWU2.75/11.25 | None | None |
| HWU2.75/11.88 | None | None |
| HWU2.75/14 | None | None |
| HWU2.75/16 | None | None |
| HWU2.75/9.25 | None | None |
| HWU2.75/9.5 | None | None |
| HWU3.56/11.25 | None | None |
| HWU3.56/11.88 | | None |
| HWU3.56/14 | | None |
| HWU3.56/16 | None | None |
| HWU3.56/18 | None | None |
| HWU3.56/20 | None | None |
| HWU3.56/9.25 | | None |
| HWU3.56/9.5 | None | None |
| HWU5.50/11.25 | None | None |
| HWU5.50/11.88 | None | None |
| HWU5.50/12 | None | None |
| HWU5.50/14 | None | None |
| HWU5.50/16 | None | None |
| HWU5.50/18 | None | None |
| HWU5.50/20 | None | None |
| HWU5.50/9.25 | None | None |
| HWU5.50/9.5 | None | None |
| HWU7.12/11.25 | None | None |
| HWU7.12/11.88 | None | None |
| HWU7.12/14 | None | None |
| HWU7.12/16 | None | None |
| HWU7.12/18 | None | None |
| HWU7.12/20 | None | None |
| HWU7.12/7.25 | None | None |
| HWU7.12/9.25 | None | None |
| HWU7.12/9.5 | None | None |
| W3511.88 | None | |
| WI311.25 | None | None |
| WI39.25 | None | None |
| WI39.5 | None | |
| WM11 | None | None |
| WM14 | None | None |
| WM16 | None | None |
| WM211.25 | None | None |
| WM211.25-2 | None | None |
| WM211.88 | None | None |
| WM211.88-2 | None | None |
| WM29.25 | None | None |
| WM29.25-2 | None | None |
| WM29.5 | None | None |
| WM29.5-2 | None | None |
| WM3.56/11.88 | None | None |
| WM3.56/9.5 | None | None |
| WM3511.88 | None | None |
| WM3511.88-2 | None | None |
| WM3514 | None | None |
| WM3514-2 | None | None |
| WM3516 | None | None |
| WM3516-2 | None | None |
| WM3518 | None | None |
| WM3518-2 | None | None |
| WM3520 | None | None |
| WM3520-2 | None | None |
| WM5.50-11.88 | None | None |
| WM5.50/11.88 | None | None |
| WM5.50/9.5 | None | None |
| WM9 | None | None |
| WMI314 | None | None |
| WMI316 | None | None |
| WMI318 | None | None |
| WMI320 | None | None |
| WMI411.25-2 | None | None |
| WMI411.88-2 | None | None |
| WMI412 | None | None |
| WMI414 | None | None |
| WMI414-2 | None | None |
| WMI416 | None | None |
| WMI416-2 | None | None |
| WMI418 | None | None |
| WMI418-2 | None | None |
| WMI420 | None | None |
| WMI420-2 | None | None |
| WMI49.5-2 | None | None |
| WP1.81/7.25 | | None |
| WP11 | None | None |
| WP14 | None | None |
| WP16 | None | None |
| WP211.25 | None | None |
| WP211.25-2 | None | None |
| WP211.88 | None | None |
| WP211.88-2 | None | None |
| WP29.25 | None | None |
| WP29.25-2 | None | None |
| WP29.5 | None | None |
| WP29.5-2 | None | None |
| WP3511.88-2 | None | None |
| WP3514 | None | None |
| WP3514-2 | None | None |
| WP3516 | None | None |
| WP3516-2 | None | None |
| WP3518 | None | None |
| WP3518-2 | None | None |
| WP3520 | None | None |
| WP3520-2 | None | None |
| WP359.5-2 | None | None |
| WP5.50/11.88 | None | None |
| WP5.50/9.5 | None | None |
| WP9 | None | None |
| WP9.25 | None | None |
| WPI311.88 | None | None |
| WPI311.88-2 | None | None |
| WPI314 | None | None |
| WPI314-2 | | None |
| WPI316 | None | None |
| WPI316-2 | None | None |
| WPI318 | None | None |
| WPI318-2 | None | None |
| WPI320 | None | None |
| WPI320-2 | None | None |
| WPI322 | None | None |
| WPI322-2 | None | None |
| WPI324 | None | None |
| WPI324-2 | None | None |
| WPI326 | None | None |
| WPI326-2 | None | None |
| WPI328 | None | None |
| WPI330 | None | None |
| WPI39.5-2 | None | None |
| WPI411.25 | None | None |
| WPI411.25-2 | None | None |
| WPI411.88 | None | None |
| WPI411.88-2 | None | None |
| WPI412 | None | None |
| WPI414 | None | None |
| WPI414-2 | None | None |
| WPI416 | None | None |
| WPI416-2 | None | None |
| WPI418 | None | None |
| WPI420 | None | None |
| WPI422 | None | None |
| WPI424 | None | None |
| WPI426 | None | None |
| WPI428 | None | None |
| WPI430 | None | None |
| WPI432 | None | None |
| WPI49.25 | None | None |
| WPI49.25-2 | None | None |
| WPI49.5 | None | None |
| WPI49.5-2 | None | None |
| WPU1.81/11.25 | | None |
| WPU1.81/11.88 | | None |
| WPU1.81/9.25 | | None |
| WPU2.75/11.25 | | None |
| WPU2.75/11.88 | | None |
| WPU2.75/14 | | None |
| WPU2.75/16 | None | None |
| WPU2.75/9.25 | None | None |
| WPU2.75/9.5 | None | None |
| WPU3.56/11.88 | | None |
| WPU3.56/14 | | None |
| WPU3.56/16 | | None |
| WPU3.56/18 | | None |
| WPU3.56/20 | | None |
| WPU3.56/22 | | None |
| WPU3.56/24 | | None |
| WPU3.56/26 | | None |
| WPU3.56/28 | | None |
| WPU3.56/7.25 | | None |
| WPU5.50/7.25 | | None |