MBHA
Concrete and Masonry Hanger
The MBHA is a single piece, non-welded connector available for solid sawn, truss and engineered wood products.
Installation
Use all specified fasteners; see General Notes
Options
Seat can be skewed at 45° only. The maximum allowable download is 3,495 lb. and 1,585 lb. uplift for height 7 1/4". For all other models, use the table listed download and uplift of 2,390 lb. Order MBHAR for skew right and MBHAL for skew left.
Related Literature
Product Information Tables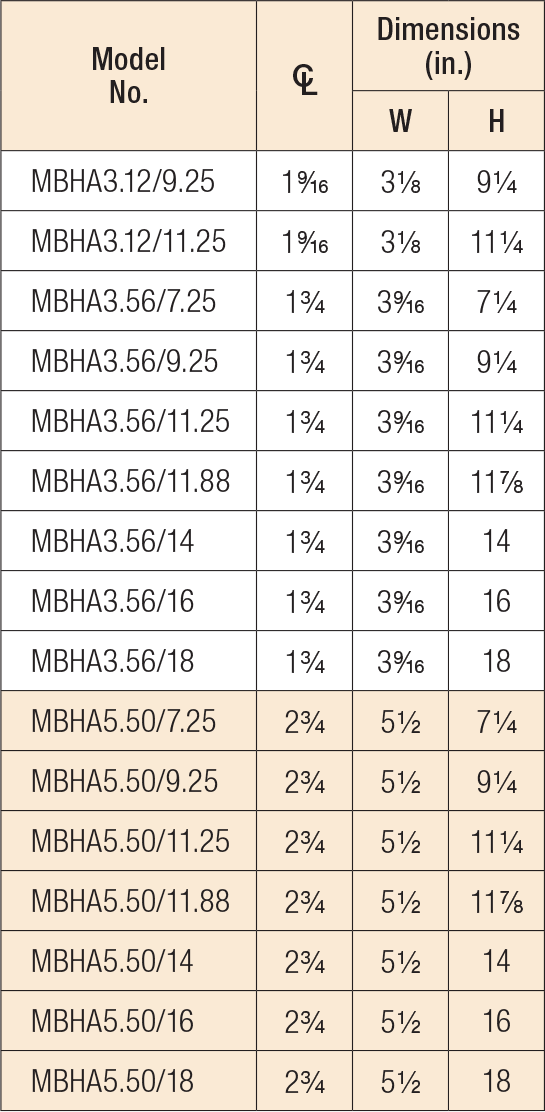 Load Tables

ATR is all-threaded rod grade A307 or better.
Minimum f'c = 2,500 psi and minimum f'm = 1,500 psi
Uplift loads have been increased 60% for wind or earthquake loading with no further increase allowed; reduce where other loads govern.
Loads are based on installation using Simpson Strong-Tie® SET-XP™ adhesive 6 3/4" minimum embedment required. Refer to the Simpson Strong-Tie® Anchoring and Fastening Systems for Concrete and Masonry catalog (form C-A-2016) for details.
MBHA hangers with height of 7 1/4" require a 3 1/2" minimum embedment of the face bolt using SET-XP adhesive.
Alternate anchorage to be designed by others.
Uplift loads are for Southern Pine. For Doug Fir use 3,515 lbs.
Table allowable loads were determined using test ultimate/3 or fastener calculation values.
NAILS: 10d = 0.148" dia. x 3" long. See other nail sizes and information.
Code Reports
Drawings
| Part | Orthographic | Perspective |
| --- | --- | --- |
| MBHA | None | None |
| MBHA3.12/11.25 | None | |
| MBHA3.12/9.25 | None | |
| MBHA3.56/11.25 | None | |
| MBHA3.56/11.88 | None | |
| MBHA3.56/14 | None | |
| MBHA3.56/16 | None | |
| MBHA3.56/18 | None | |
| MBHA3.56/7.25 | None | |
| MBHA3.56/9.25 | None | |
| MBHA5.50/11.25 | None | |
| MBHA5.50/11.88 | None | |
| MBHA5.50/14 | None | |
| MBHA5.50/16 | None | |
| MBHA5.50/18 | None | |
| MBHA5.50/7.25 | None | |
| MBHA5.50/9.25 | | |