On This Page
Twist straps provide a tension connection between two wood members. An equal number of right- and left-hand units are supplied in each carton.
Finish
Galvanized; see Corrosion Information
Installation
Use all specified fasteners; see General Notes.
Loads are for a single TS strap. TS should be installed in pairs to reduce eccentricity.
Related Literature
Load Tables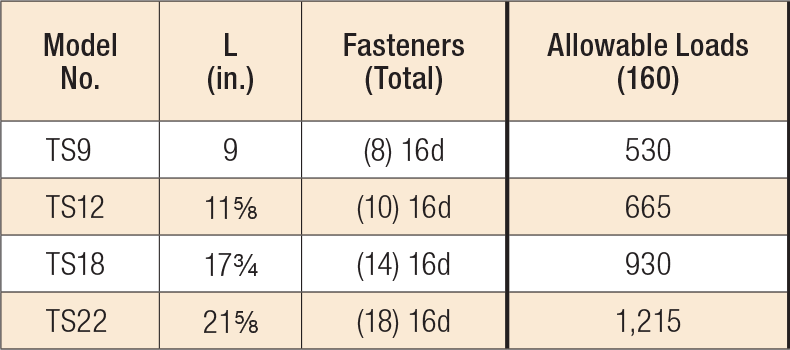 Install half of the fasteners on each end of the strap to achieve full loads.
Loads have been increased 60% for wind or earthquake loading; no further increase allowed; reduce where other loads govern.
16d sinkers (0.148" dia. x 3 1/4" ) may be substituted for the specified 16d commons at 0.84 of the table loads.
NAILS: 16d = 0.162" dia. x 3 1/2" long. See other nail sizes and information.
Code Reports
Part
IAPMO UES ER
ICC-ES ESR
City of Los Angeles
State of Florida
TS
See specific model numbers for code listings.
TS12
No evaluation report listing.
TS18
No evaluation report listing.
TS22
No evaluation report listing.
TS9
No evaluation report listing.
Drawings
| Part | Orthographic | Perspective |
| --- | --- | --- |
| TS | None | None |
| TS12 | | |
| TS18 | None | |
| TS22 | | |
| TS9 | | |