On This Page
Roof Truss and Rafter Connectors, Ties, and Straps
This product's information may differ depending on the category of use. You are currently viewing details related to Roof Truss and Rafter Connectors, Ties, and Straps. You can also view product information related to the category: Joist Framing Connectors for Cold-Formed Steel Construction
The S/DHUTF top-mount hanger is designed to carry joist loads to a CFS stud wall through two layers of 5/8" gypsum board (drywall). This hanger installs after the drywall is in place and comes in sizes that accommodate most typical joists used in multi-family and commercial construction.
Installation
Use all specified fasteners; see General Notes
Hanger to be framed in-line with vertical wall stud
Drywall is installed first
Wall top track must be restrained to counteract load eccentricity from hanger
Related Literature
Product Information Table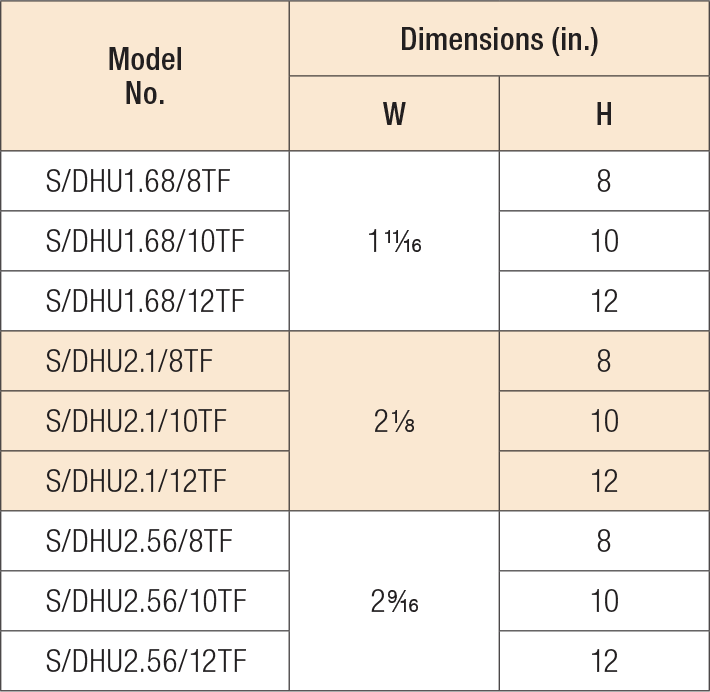 Load Tables

Designer shall ensure that the joist member adequately transfers load to the hanger.
Tabulated loads assume (2x) 5/8" Type X drywall attached per IBC.
Wall studs designed per Designer specifications. At a minimum, the assembly must consist of 600T350-68, Gr. 50 ksi top track and 600S162-43, Gr. 33 ksi wall studs spaced at a maximum of 24" o.c.
Tabulated loads are based on testing with full bearing of 3 15/16" hanger top flange. The minimum joist gauge is 54 mil (16 ga.).
S/DHUTF hanger can be installed 3/4" max. from the center of the vertical stud per the in-line framing specifications of the AISI General Provisions without load adjustment.
Code Reports & Compliance