SUR/SUL/HSUR/HSUL
Skewed 45° Hangers for I-Joist and SCL
The SUR/L1.81, 2.06, 2.1, 2.37, 2.56 and HSUR/L series are 45° skewed hangers designed specifically to ease the installation of single and double I-joists. In addition to featuring positive-angle nailing, these hangers encapsulate the top flange of the I-joist, so no web stiffeners are required for standard installation.
The full range of 45° skewed hangers feature obround nail holes on the acute side allowing nails to be easily installed parallel to the joist. Installation is further simplified with no required bevel cuts.
Material
SUR and SUL — 16 gauge; HSUR and HSUL — 14 gauge
Finish
Galvanized. Some products available in ZMAX® coating. See Corrosion Information.
Installation
Use all specified fasteners. See General Notes.
Illustrations show left and right skews SUR/L (SUR = skewed right; SUL = skewed left).
The joist end may be square cut or bevel cut.
Fill all round and obround nail holes with specified fasteners to achieve table loads. Where noted, triangle holes in the joist flange may be filled for additional uplift capacity.
For I-joists with flanges less than 1 5/16", web stiffeners are required for all double joist hangers when using hangers that are 14 gauge and lighter.
Options
These hangers will accommodate a 40° to 50° skew.
Available with the A2 flange turned in on (2) 2x and 4x models only (see illustration). For example, specify HSURC410, HSULC410, SURC210-2 or SULC210-2.
Related Literature
Load Tables
These products are available with additional corrosion protection. Additional products on this page may also be available with this option, check with Simpson Strong-Tie for details.
These models are approved for installation with the Strong-Drive® SD Connector screw. See the load values below.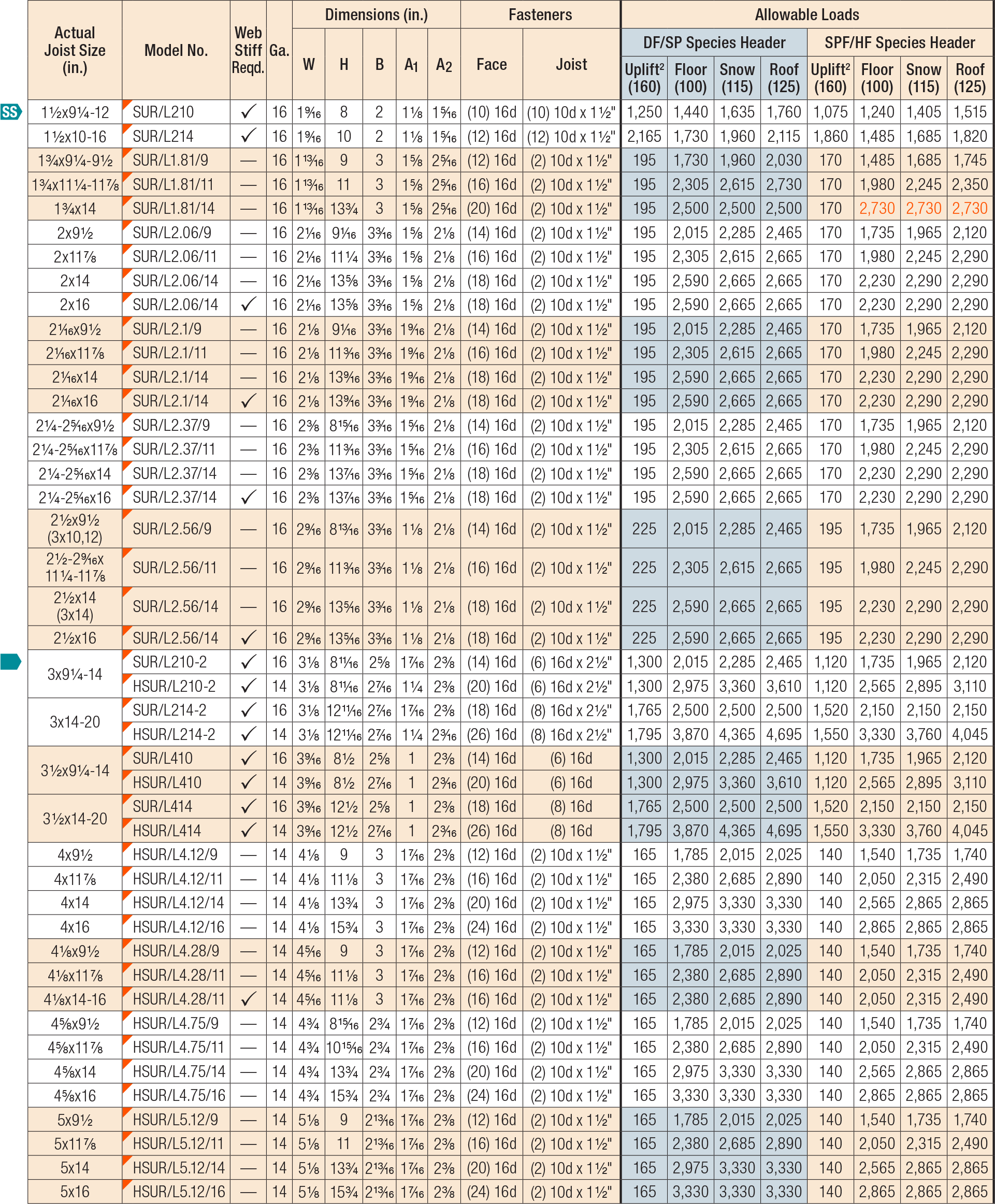 Uplift loads have been increased for wind or earthquake loading with no further increase allowed; reduce where other loads govern.
Triangle nail holes may be filled (requires web stiffeners) with 10d x 1 1/2" nails for additional uplift.
SUR/SUL 9- and 11-inch, SUR/SUL1.81 /14 and all HSUR/HSUL models have additional holes, that when filled can resist 795 lb. for Douglas Fir or Southern Pine or 685 lb. for SPF/HF.
SUR/SUL 14-inch models have (6) additional holes, that when filled can resists 1,190 lb. for DF/SP and 1,025 lb. for SPF/HF.
When the supported member is an I-joist with flanges less than 1 5/16" thick, the allowable uplift shall not exceed 190 lb. without web stiffeners.
Allowable downloads are based on a joist bearing capacity of 750 psi.
Nails: 16d = 0.162" dia. x 3 1/2" long, 10d x 1 1/2" = 0.148" dia. x 1 1/2" long.
See other nail sizes and information.
Code Reports
Drawings
| Part | Orthographic | Perspective |
| --- | --- | --- |
| HSUL210-2 | None | None |
| HSUL210-2Z | None | None |
| HSUL214-2 | None | None |
| HSUL26-2 | None | None |
| HSUL4.12/11 | | None |
| HSUL4.12/14 | | None |
| HSUL4.12/16 | | None |
| HSUL4.12/9 | | None |
| HSUL4.28/11 | | None |
| HSUL4.28/9 | None | None |
| HSUL4.75/11 | | None |
| HSUL4.75/14 | | None |
| HSUL4.75/16 | | None |
| HSUL4.75/9 | | None |
| HSUL410 | | None |
| HSUL410Z | None | None |
| HSUL414 | None | None |
| HSUL46 | None | None |
| HSUL46Z | None | None |
| HSUL5.12/11 | None | None |
| HSUL5.12/14 | None | None |
| HSUL5.12/16 | None | None |
| HSUL5.12/9 | None | None |
| HSULC210-2 | | None |
| HSULC210-2Z | None | None |
| HSULC214-2 | None | None |
| HSULC26-2 | None | None |
| HSULC410 | None | None |
| HSULC410Z | None | None |
| HSULC414 | None | None |
| HSULC46 | None | None |
| HSULC46Z | None | None |
| HSUR210-2 | None | None |
| HSUR210-2Z | None | None |
| HSUR214-2 | None | None |
| HSUR26-2 | None | None |
| HSUR4.12/11 | | None |
| HSUR4.12/14 | | None |
| HSUR4.12/16 | | None |
| HSUR4.12/9 | | |
| HSUR4.28/11 | | None |
| HSUR4.28/9 | None | None |
| HSUR4.75/11 | | None |
| HSUR4.75/14 | | None |
| HSUR4.75/16 | | None |
| HSUR4.75/9 | | None |
| HSUR410 | | None |
| HSUR410Z | None | None |
| HSUR414 | None | None |
| HSUR46 | None | None |
| HSUR46Z | None | None |
| HSUR5.12/11 | | None |
| HSUR5.12/14 | | None |
| HSUR5.12/16 | | None |
| HSUR5.12/9 | | None |
| HSURC210-2 | | None |
| HSURC210-2Z | None | None |
| HSURC214-2 | None | None |
| HSURC26-2 | None | None |
| HSURC410 | None | None |
| HSURC410Z | None | None |
| HSURC414 | None | None |
| HSURC46 | None | None |
| HSURC46Z | None | None |
| SUL1.81/11 | | None |
| SUL1.81/14 | | None |
| SUL1.81/9 | | None |
| SUL2.06/11 | | None |
| SUL2.06/14 | | None |
| SUL2.06/9 | | None |
| SUL2.1/11 | | None |
| SUL2.1/14 | | None |
| SUL2.1/9 | | None |
| SUL2.37/11 | | None |
| SUL2.37/14 | | None |
| SUL2.37/9 | | None |
| SUL2.56/11 | | None |
| SUL2.56/14 | | None |
| SUL2.56/9 | | None |
| SUL210 | | None |
| SUL210-2 | | None |
| SUL210-2Z | | None |
| SUL210SS | | None |
| SUL210Z | | None |
| SUL214 | | None |
| SUL214-2 | | None |
| SUL24 | | None |
| SUL26 | | None |
| SUL26-2 | | None |
| SUL26SS | | None |
| SUL26Z | | None |
| SUL410 | | None |
| SUL414 | | None |
| SUL46 | | None |
| SUL5.12/11 | | None |
| SULC210-2 | | None |
| SULC26-2 | None | None |
| SULC410 | None | None |
| SULC414 | None | None |
| SULC46 | None | None |
| SUR1.81/11 | | None |
| SUR1.81/14 | | None |
| SUR1.81/9 | | None |
| SUR2.06/11 | | None |
| SUR2.06/14 | | None |
| SUR2.06/9 | | None |
| SUR2.1/11 | | None |
| SUR2.1/14 | | None |
| SUR2.1/9 | | None |
| SUR2.37/11 | | None |
| SUR2.37/14 | | None |
| SUR2.37/9 | | None |
| SUR2.56/11 | | None |
| SUR2.56/14 | | None |
| SUR2.56/9 | | None |
| SUR210 | | None |
| SUR210-2 | | None |
| SUR210-2Z | | None |
| SUR210SS | | None |
| SUR210Z | | None |
| SUR214 | | None |
| SUR214-2 | | None |
| SUR24 | | None |
| SUR26 | | None |
| SUR26-2 | | None |
| SUR26SS | | None |
| SUR26Z | | None |
| SUR410 | | None |
| SUR414 | | None |
| SUR46 | | None |
| SUR5.12/11 | | None |
| SURC210-2 | | None |
| SURC26-2 | None | None |
| SURC410 | None | None |
| SURC414 | None | None |
| SURC46 | None | None |