W/WPU/WNP/WMU/HW/HWU/HWP/HWPH
Top-Flange Hangers
The W, WPU, HWU and HW series purlin hangers offer the greatest design flexibility and versatility. WMUs are designed for use on standard 8"-grouted masonry block wall construction. Models that have an "I" in the model number (e.g., HWI) have the same properties and modifications as the standard models without the "I" in the name (e.g., HW).
The new HWP and HWPH high-wind purlin hangers have enhanced uplift. They are ideal for high-wind applications.
Finish
Simpson Strong-Tie® gray paint; hot-dip galvanized available: specify HDG, contact Simpson Strong-Tie
Installation
Use all specified fasteners; see General Notes.
H dimensions are sized to account for normal joist shrinkage. W dimensions are for dressed timber widths.
Hangers may be welded to steel headers with weld size to match material thickness (approximate thickness shown): 1/8" for W, 3/16" for WNP/WPU and 1/4" for HW/HWU, by 1 1/2"-fillet welds located at each end of the top flange (see General Instructions for the Installer, note m for welding information). Weld-on applications produce maximum allowable load listed. For uplift loads refer to technical bulletin Top-Flange Hangers Welded to Structural Steel Members (T-C-WELDUPLFT), for HWU and WPU hangers only.
Hangers can support multi-ply carried members; the individual members must be secured together to work as a single unit before installation into the hanger.
For attaching to headers made up of multiple 2xs, refer to technical bulletin Top-Flange Hanger Reductions For Multiple-Ply Headers (T-C-MPLYHEADR).
Options
See Hanger Options General Notes.
Refer to technical bulletin Sloped Joist in Non-Sloped Hangers (T-SLOPEJST) for information regarding load reductions on selected hangers which can be used without modification to support joists which have shallow slopes (≤3/4:12).
Some model con gurations may differ from those shown. Contact Simpson Strong-Tie for details.
Some models are available in Type A (bevel cut). All models are available in Type B style (square cut). Contact Simpson Strong-Tie when ordering.
Hangers with a skew greater than 15° may have all the joist nails on the outside angle.
Skewed HWs have face nails and require a minimum header depth of 3 1/2".
Specify the slope up or down in degrees from the horizontal plane and/or the skew right or left in degrees from the perpendicular vertical plane. Specify whether low side, high side or center of joist will be ush with the top of the header (see illustration).
Uplift loads are not available for open/closed TF, TF sloped and offset options.

Saddle Hanger
To order, add D to model and specify S dimension (see illustration).
Saddle hangers achieve catalog load listed. Saddle hangers on stud walls do not achieve catalog loads.
Recommended S dimension is 1/16" oversized for carrying members 2 1/2" wide and less or 1/8" oversized for greater than 2 1/2" wide.
Saddle versions are available on some W, WNP and HW models.

Ridge Hanger (not available for uplift models)
Top flange may be sloped to a maximum of 35° to accommodate a ridge (see illustration). Specify angle of the slope. Reduce allowable load using straight-line interpolation. See Open/Closed example.
Related Literature
Load Tables
See Hanger Options for hanger modifications, which may result in reduced loads.
The table indicates the maximum allowable loads for W, WNP and HW hangers used on wood nailers. Nailers are wood members attached to the top of a steel I-beam, concrete or masonry wall.
Nailer Table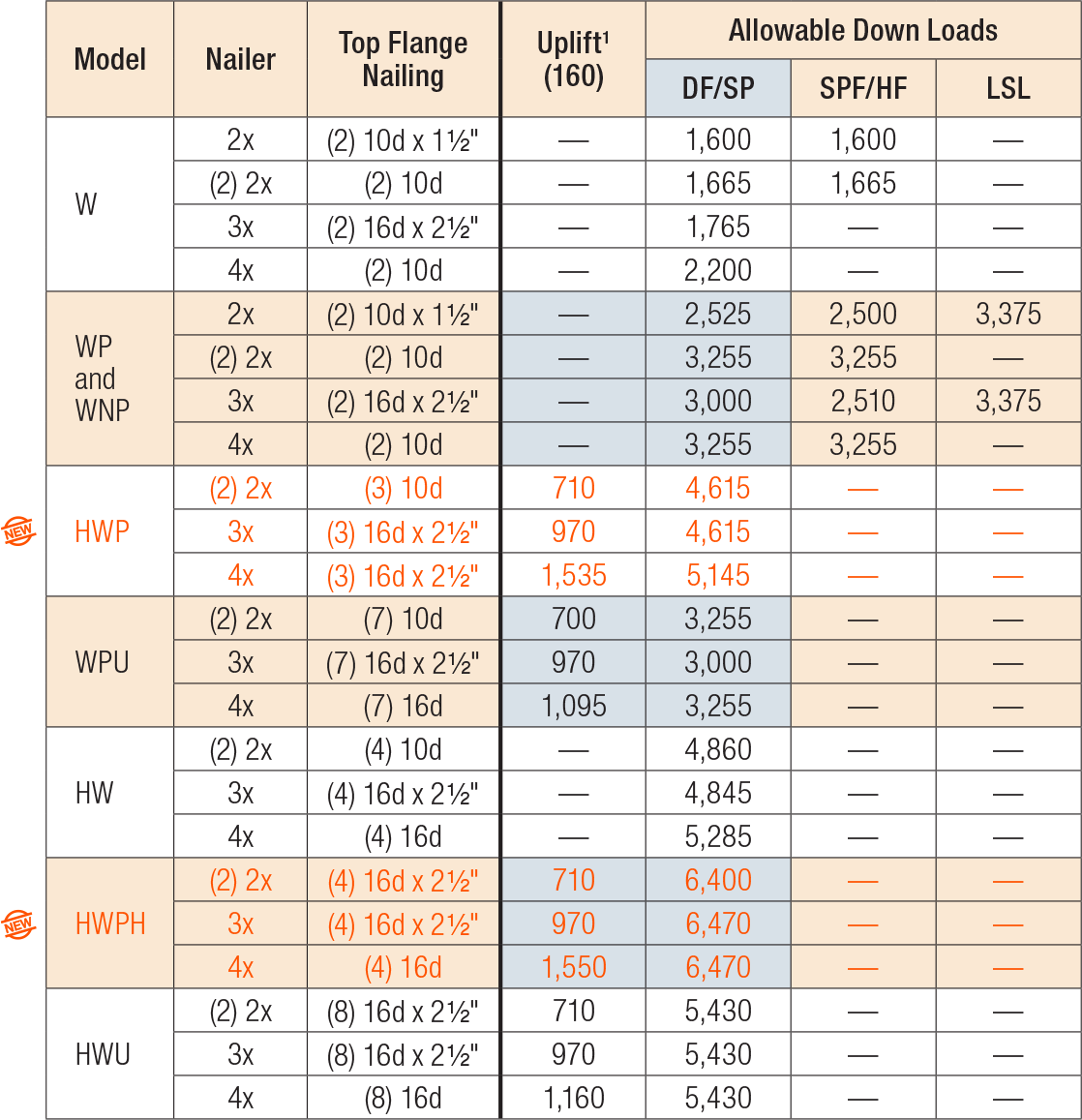 Uplift value for the HWU hanger is for depths ≤18" and are for DF/SP values only. Refer to uplift values in table below for taller depths.
Attachment of nailer to supporting member is the responsibility of the Designer.
W Series with Various Header Applications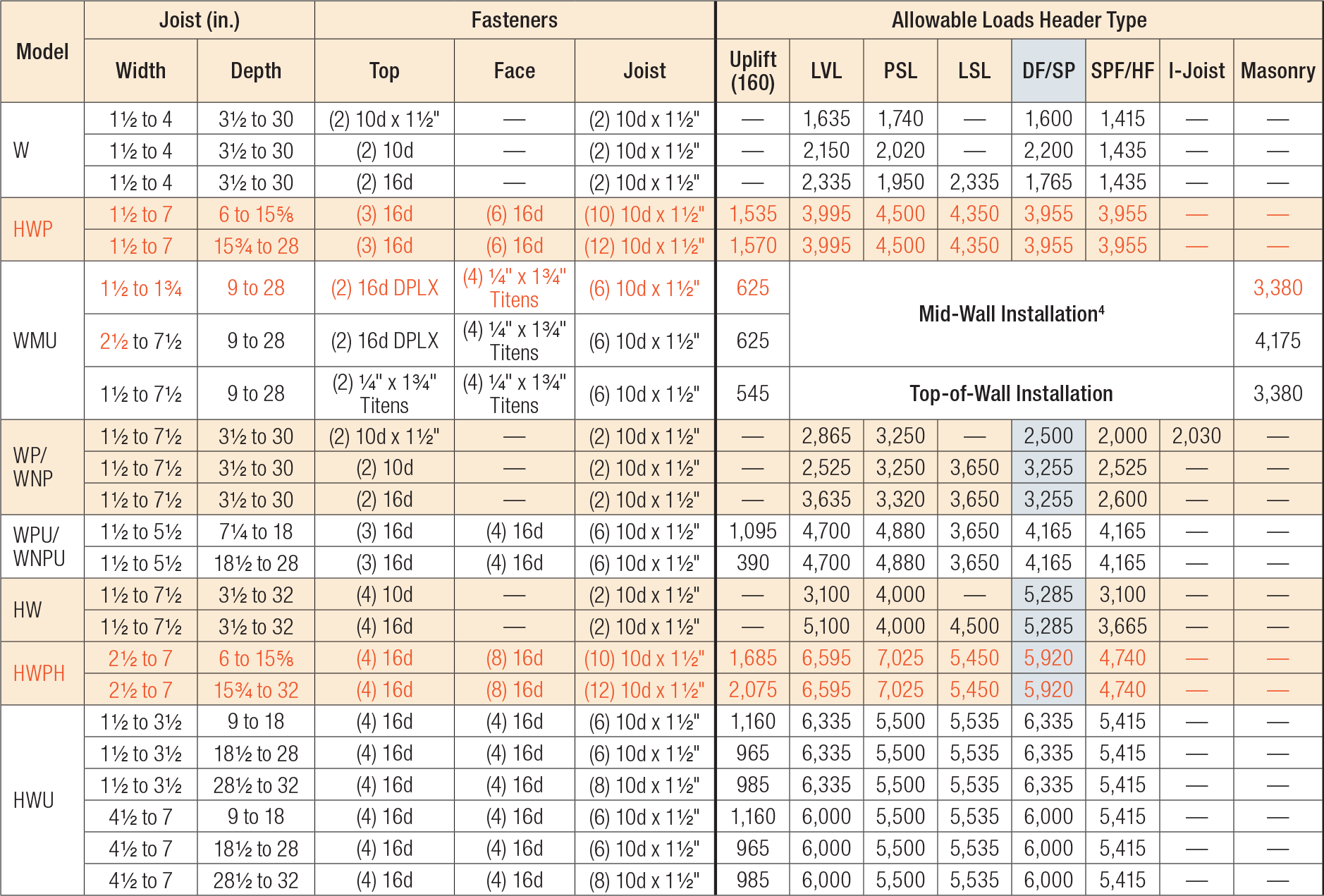 Code values are based on DF/SP header species.
WMU, WPU and HWU uplift loads have been increased for wind or earthquake loading with no further increase allowed. Reduce where other loads govern.
For hanger heights exceeding the joist height, the allowable load is 0.50 of the table load.
Mid-wall Installation requires minimum of one grouted course above and below the hanger.
Nails: 16d = 0.162" dia. x 3 1/2" long, 10d = 0.148" dia. x 3" long, 10d x 1 1/2" = 0.148" dia. x 1 1/2" long.
See other nail sizes and information.
Modifications and Associated Load Reductions for W/WPU/WNP/WMU/HW/HWU

WPU, WNPU, HWU have a maximum skew of 45° and can only be skewed when W ≤ 3 9/16"
For straight-line interpolation, "a" is the specified angle.
For skewed and offset top flange hangers, the maximum allowable load is 0.50 of the table load or 2,000 lb., whichever is lower.
For type B hangers skewed and top flange offset in the opposite direction, hangers 3 1/2", the allowable load is 30% of the table load or 1,620 lb., whichever is lower.
Reduction factors are not cumulative. Use the lowest factors that apply.
Reduction Factor Instructions
Allowable Download =
(lowest of Seat, Top Flange, or Joist Height) x (Table Load). See pp. 154-159 for table loads.
Allowable Uplift =
as noted in tables per height see tables above. (WPU, WNPU, HWU only)
Typical HW sloped down, skewed right with type A hanger (Joist end must be bevel cut).
When ordering, specify low side flush, center flush or high side flush.
Code Reports
Drawings
| Part | Orthographic | Perspective |
| --- | --- | --- |
| HW1.56X | None | |
| HW2.56X | None | |
| HW29.25-2 | None | |
| HW3.12X | None | |
| HW3.56X | None | |
| HW410 | None | |
| HW412 | None | |
| HW416 | None | |
| HW46 | None | |
| HW48 | None | |
| HW610 | None | |
| HW612 | None | |
| HW616 | None | |
| HW66 | None | |
| HW68 | None | |
| HW810 | None | |
| HW812 | None | |
| HW814 | None | |
| HW816 | None | |
| HW86 | None | |
| HW88 | None | |
| HWP | None | None |
| HWP1.56 | None | None |
| HWP1.81 | None | None |
| HWP2.56 | None | None |
| HWP3.56 | None | None |
| HWP5.12 | None | None |
| HWP5.62 | None | None |
| HWP66 | None | None |
| HWP7.12 | None | None |
| HWPH2.56 | None | None |
| HWPH3.56 | None | None |
| HWPH5.12 | None | None |
| HWPH5.62 | None | None |
| HWPH7.12 | None | None |
| HWU1.56X | None | None |
| HWU2.56X | None | None |
| HWU211.25-2 | None | None |
| HWU3.12X | None | None |
| HWU3.56/11.25 | None | None |
| HWU3.56/9.25 | | None |
| HWU3.56X | None | None |
| HWU4.68X | None | None |
| HWU410 | None | None |
| HWU412 | None | None |
| HWU414 | None | None |
| HWU416 | None | None |
| HWU610 | None | None |
| HWU612 | None | None |
| HWU614 | None | None |
| HWU616 | None | None |
| HWU66 | None | None |
| HWU68 | None | None |
| WM210 | None | None |
| WM210-2 | None | None |
| WM211.25 | None | None |
| WM211.25-2 | None | None |
| WM212 | None | None |
| WM212-2 | None | None |
| WM214 | None | None |
| WM214-2 | None | None |
| WM216 | None | None |
| WM216-2 | None | None |
| WM26 | None | None |
| WM26-2 | None | None |
| WM28 | None | None |
| WM28-2 | None | None |
| WM29.25 | None | None |
| WM29.25-2 | None | None |
| WM3.12X | None | None |
| WM3.56X | None | None |
| WM310 | None | None |
| WM312 | None | None |
| WM314 | None | None |
| WM316 | None | None |
| WM34 | None | None |
| WM36 | None | None |
| WM38 | None | None |
| WM4.68X | None | None |
| WM410 | None | None |
| WM412 | | None |
| WM414 | None | None |
| WM416 | None | None |
| WM44 | None | None |
| WM46 | None | None |
| WM48 | None | None |
| WM610 | None | None |
| WM612 | None | None |
| WM614 | None | None |
| WM616 | None | None |
| WM66 | None | None |
| WM68 | None | None |
| WMU1.56X | None | None |
| WMU2.56X | None | None |
| WMU3.12X | None | None |
| WMU3.56X | None | None |
| WMU4.68X | None | None |
| WMU5.50X | None | None |
| WNP | None | None |
| WNP210-2 | None | None |
| WNP212-2 | None | None |
| WNP214-2 | None | None |
| WNP216-2 | None | None |
| WNP26-2 | None | None |
| WNP28-2 | None | None |
| WNP312 | None | None |
| WNP314 | None | None |
| WNP316 | None | None |
| WNP412 | None | None |
| WNP414 | None | None |
| WNP416 | None | None |
| WNP610 | None | None |
| WNP66 | None | None |
| WNP68 | None | None |
| WP2.56X | None | None |
| WP29.25 | None | None |
| WP29.25-2 | None | None |
| WP3.12X | None | None |
| WP3.56/5.5 | None | None |
| WP3.56X | None | None |
| WP4.68X | None | None |
| WPU | None | None |
| WPU2.56X | | None |
| WPU211.25-2 | None | None |
| WPU29.25-2 | None | None |
| WPU3.56/11.25 | | None |
| WPU3.56X | | None |
| WPU5.50X | | None |