MSC
Multiple Seat Connector
The MSC supports the ridge and two valleys for roof construction. Ideal for dormer roof applications.
Material
Top flange — 3 gauge; stirrups — 11 gauge (MSC2 and MSC1.81), 7 gauge (MSC4 and MSC5)
Finish
Simpson Strong-Tie® gray paint. HDG available; contact Simpson Strong-Tie.
Installation
Distribute the total load evenly about the centerline to avoid eccentric loading
Fasten all built-up members together as one unit
Net height will be calculated based on specified valley member depth and slope by the factory unless noted otherwise
Sloped and/or Skewed Valleys

The valley stirrups can be sloped down to 45° and skewed from 25° to 45°. (MSC5 skewed 20°-45°.)
The total design load of the hanger is split between the ridge (20%) and each valley (40%).
MSC connectors can be used for two valley connections with no ridge member. Divide the total load by two for each valley load.
Many combinations of joist sizes, slopes and skews can be manufactured (refer to MSC Multiple Seat Connector Special Order Worksheet, T-MSC-WS).
Related Literature
Load Tables
These products are available with additional corrosion protection. Additional products on this page may also be available with this option, check with Simpson Strong-Tie for details.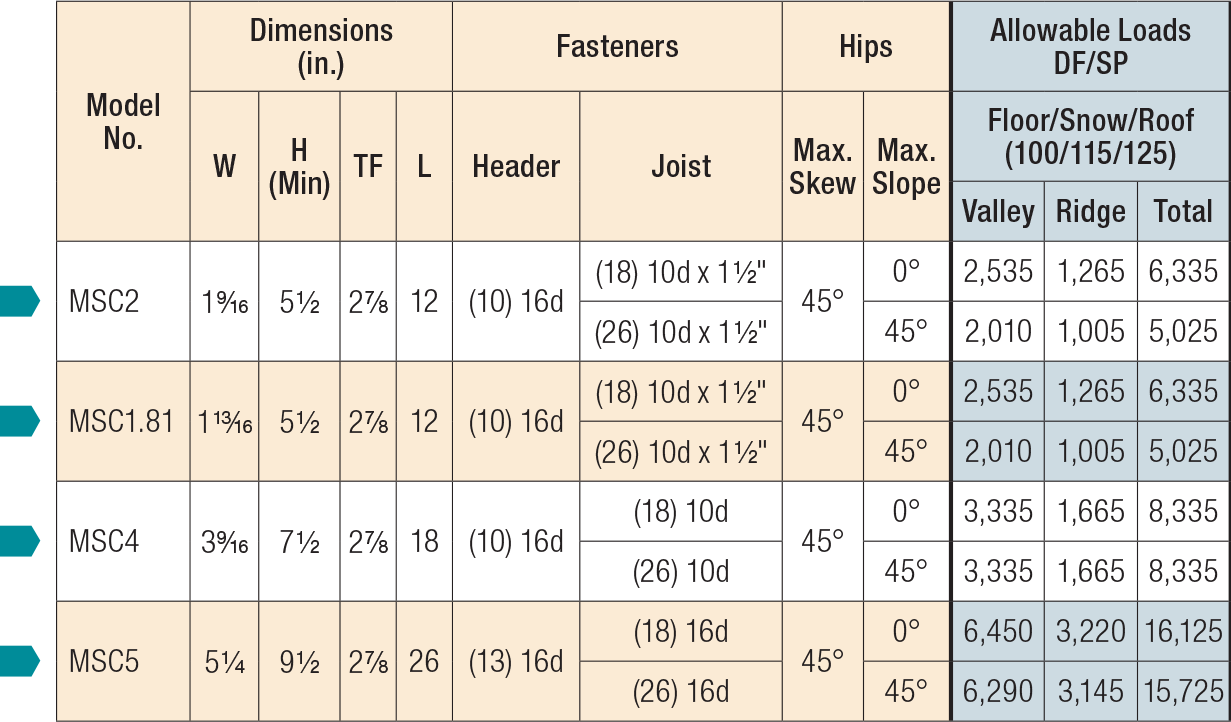 Valley loads are for each valley.
Other valley-ridge load distributions are allowed provided the sum of all three carried members is distributed symmetrically about the center of the hanger and combined do not exceed the total load.
MSC4 is also available in 3 1/8" glulam width.
MSC5 is also available in widths up to 5 1/2". W2 minimum width is 3 1/8".
MSC4 is also available in widths down to 1 9/16". Use 10d x 1 1/2" nails and MSC2 allowable loads.
Refer to technical bulletin T-MSC-WS for the hip valley rafter pitch conversion table.
NAILS: 16d = 0.162" dia. x 3 1/2" long, 10d = 0.148" dia. x 3" long, 10d x 1 1/2" = 0.148" dia. x 1 1/2" long.
See other nail sizes and information.
Code Reports
Part
IAPMO UES ER
ICC-ES ESR
City of Los Angeles
State of Florida
MSC
See specific model numbers for code listings.
MSC1.81
RR25803
MSC2
RR25803
MSC4
RR25803
MSC5
RR25803